Profile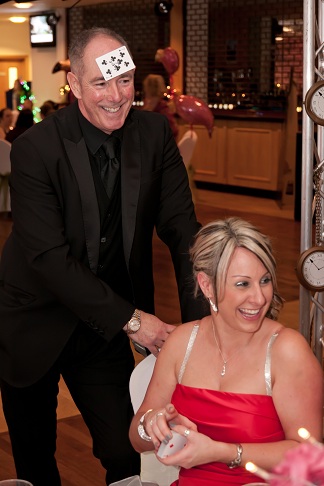 Congratulations, you have found your way to the home of Gary Jones, Exeter/Devon based professional magician, table magician, author, director/producer and lecturer. Maybe you would like to book Gary for your wedding, trade show, private party or formal dinner, or you are a fellow magician looking for a new trick, or maybe you are a member of a magic club looking to book Gary's lecture; whatever the reason I'm sure you will find what you are looking for.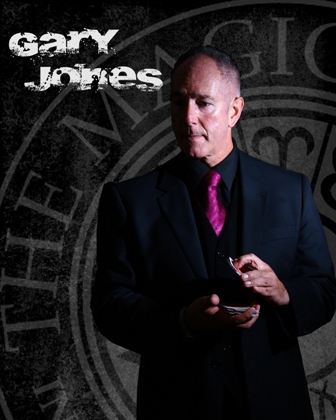 Exeter/London based professional magician Gary Jones blends spontaneous comedy with mind-blowing magic.
Gary has been awarded "Close-Up performer of the Year" at the Devon Magic Circle for seven consecutive years and has won the title a total of eleven times. Gary has also appeared on BBC1, Channel 5, Sky One, Gemini Radio & BBC Radio Devon and Channel 4's The Graham Norton Show. Once seen never forgotten, Gary's magic will astound, baffle and above all, entertain.
Below are a few photos of Gary performing a while back at an Eastenders party at the Grosvenor on Park Lane.
Gary's endless sense of humour ensures his presence transforms any event into an unforgettable experience. His unique ability to create rapport with any audience results in his performance being talked about long after the show is over. Gary is able to borrow your coins, rings or your own cards and perform truly bewildering magic right in front of your eyes; then just as you catch your breath you realise he's wearing your watch! A truly memorable entertainer, Gary has to be seen to be believed.
"Incredible, simply amazing!" Nigel Mansell.
 "Absolutely amazing!" Sarah Ferguson.
 "Wow, do that again!" Sir Richard Branson.
 "Gary performs Close Up Magic of the highest order" The Stage.
 "You should be on the Royal Variety Show" Gordon Kaye.
 "With your sense of humour you should be locked up for a very long time"Sir John Evans, Chief Constable of Devon and Cornwall Constabulary.
International Entertainer Gary has travelled the world performing at Corporate Events, Private Parties, Conferences, Weddings and Product Launches in London, Paris, Madrid, Casablanca, New York, Lisbon, Dubai, Marbella, Nice, Barcelona and Seville. Gary regularly performs for Hotel Groups including The Brend, Thistle, Hilton and London Savoy, along with University and Training Establishments such as Plymouth, Hull, Exeter, Seale Hayne, Britannia Naval College, Lympstone Marine Camp, HMS Drake and Sandhurst.
Gary Jones Magic is currently in his 10th year performing at the very luxurious Thurlestone Hotel near the glorious Devon coastal town of Salcombe.
Corporate clients include Ford, Ferrari, Lloyd's TSB, MYDATA, Europlacer, Mazda, Bentley, Sony, Chrysler and Fairline. Gary has also appeared at Comedy Clubs such as The Mud Dock, Timepiece and The Comedy Store. Gary has also appeared on The Graham Norton Show performing the hilariously funny and amazing "Balloon Swallowing Illusion."
"Oh my gosh!" HRH The Duchess of Wessex.
"What the #@?#!" Jonathan Ross.
"Gary is as skilled as he is funny, excellent!" The Stage.
The following article appeared in the News section of Duncan Trillo's excellent website www.magicweek.co.uk
Gary Jones was booked to entertain celebrities including Jonathan Ross, Amanda Holden, Penny Lancaster, Alistair Stewart, Nigel Havers and Roger Daltrey at the Variety Club in Central London. Mike Hazsko, the Variety Club organiser, said, "We were all very impressed by the quality of the magic performances, and many of the celebrities also commented on how much fun they had being entertained with such great magic." 
 Gary Jones Magic performs 21st Century magic of the highest order combining expert sleight of hand, pickpocketing and psychological misdirection to create an experience never to be forgotten!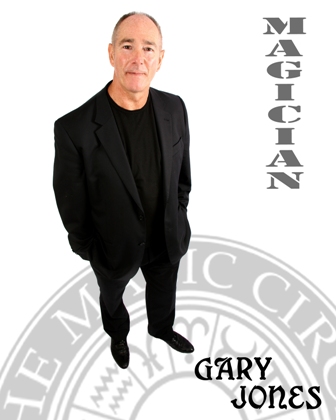 If your venue would like a full size publicity photo (10×8) please contact Gary.
If enquiring via email for a quote for your party/conference please make sure you leave a contact telephone number, Gary can then call you to discuss all your booking requirements, thank you.
 Gary Jones Exeter/London Based Magician
If you should require more information about Gary Jones Magic please type into your Google search bar Gary Jones magician, this will bring up over 20 pages of reviews, quotes from clients and other information not contained on this website.
Gary Jones Magic travels throughout the UK  and beyond.
Latest news….
Exeter based master magician Gary Jones has been awarded the highest honour in The Magic Circle, Gary has been made a member of the Inner Magic Circle with Gold Star. There are less than 300 Inner Circle members worldwide and include such greats as David Copperfield and Paul Daniels.